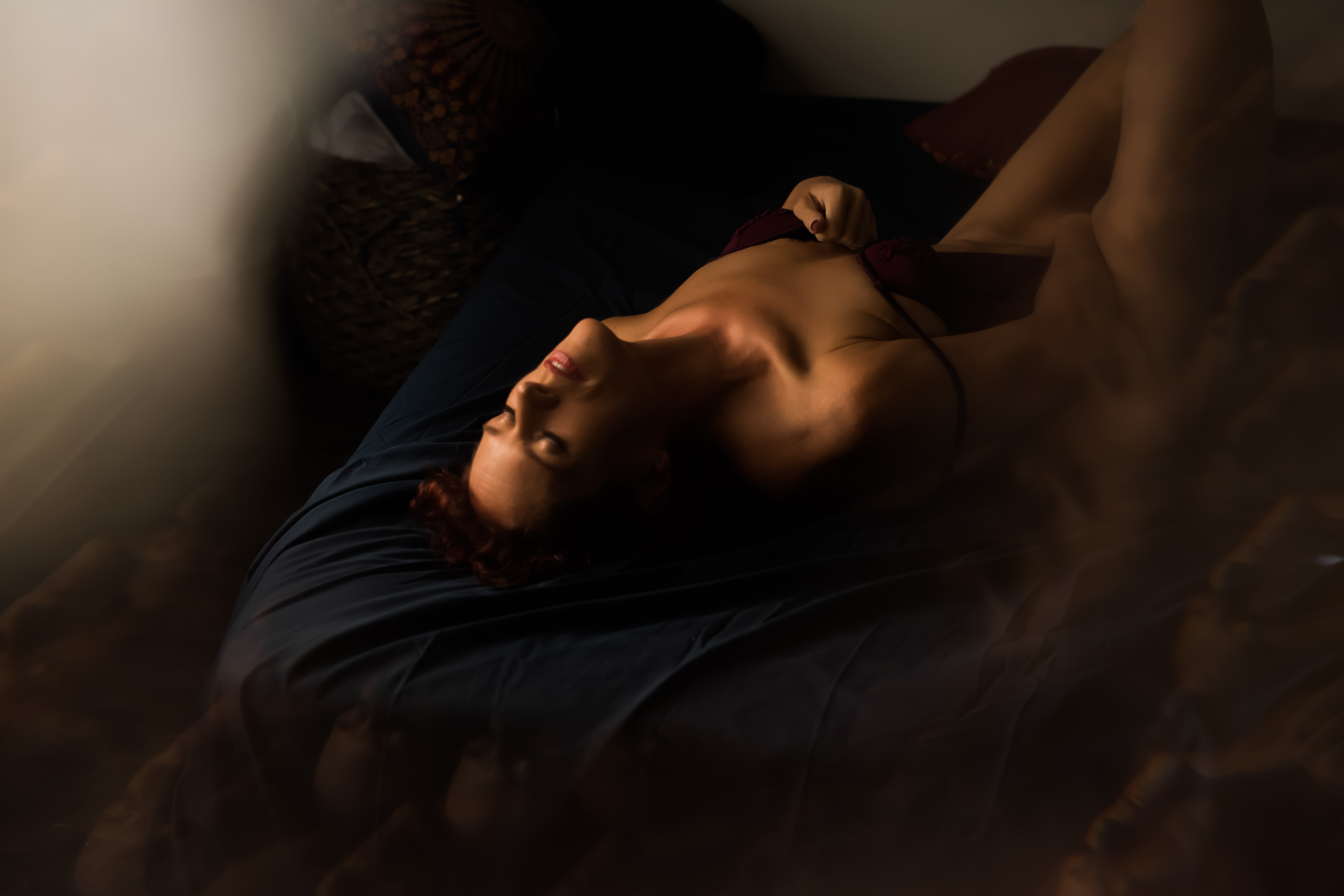 Let me start off by saying: no two days are the same when it comes to being a boudoir photographer. Though I will admit, I do go through a lot of the same motions. 
So friends, this is it. Today I'm sharing what a typical day in my life as a full-time boudoir photographer is really like. You can bet your ass it will be super glamourous 😉. 
7:30 am 
My alarm goes off and I use what feels like every muscle in my body to drag my sleepy ass out of bed. Fuck, I am such a night owl and really do despise mornings! I stumble down the stairs in a hurry to grab my first (and maybe second) cup of coffee for the day, slide into my slippers, and I'm off to take my daughter to work. 
8:00-10:00 
I get back home from dropping Em off. Now, this is where it varies from day to day. Some days, I sit and drink a few more cups of coffee and then get dinner ready to put in the crockpot. On others, I clean up and watch an episode of whatever is on HGTV. Some days, I downright go straight back to bed for an hour or so (I told you, NOT a morning person). On the day I recorded, however, I was feeling extra ambitious and went to the gym- but not before downing another cup o' joe ☕. 
10:00-11:00 
Now I head to my bathroom to get ready for my day. I take a quick shower (skip the hair-washing today) and get ready. Afterwards I eat a quick cup of greek yogurt. I know what you're thinking- a little cup of yogurt is a lame breakfast! But I am rarely hungry in the mornings and would skip it entirely if it wasn't "the most important meal of the day". I then give my pups some lovin' and rush out the door to the studio. 
11:05-3:00 
I get to the session a few minutes late (bad habit of mine), greet my patiently waiting client, get another cup of coffee going and we start her session! The boudoir shoot ends a little after 1:00 and I have a few hours to kill before another client comes in for her reveal. So, I get some Panera delivered, pick up the studio, and work on organizing albums and other products so they're ready to be picked up. My next client arrives and we start her reveal! 
4:30-6:30 
My time at the studio wraps up around 4:30, so I put everything away, close up, pick up my youngest from show choir practice and we head home to start dinner.  
6:30-8:00 
Dinner-time is the only time during the workweek my whole family is together so, our time around the table may take longer than most. We eat, talk about our days, and simply enjoy each other's company. After a while, I look at my watch and realize: SHIT, I'm supposed to be going live! 
8:00-12 
I finish the live-chat with my girls and finish out the night, drinking a few glasses of wine, catching up on Netflix, and editing a gallery from a session a few days before. I head upstairs to change into my pj's, brush my teeth, and its lights out around midnight. 
The alarm goes off at 7:30 the next morning and we do it all over again! 
So there you have it folks, a typical day in the life of a full-time boudoir photographer! While some days of the week are a hell of a lot busier than this, it's still very different than your usual 9-5 gig. It may be a little unorthodox and at times EXTREMELY stressful, but I have a truly amazing life that I am forever grateful for. I wouldn't change a single thing.  
Okay, maybe I'd change the whole "getting up at 7:30" bit… I would definitely change that routine if it could 😉. 
Until next time! 
–Amy