I honestly believe in what we do here at the Intimate story wholeheartedly.  Buuuut I also know that its a whole different story to be on the other end of that camera.  That is why I LOVE Featured Client Fridays so damn much.  You get to hear in their own words how these gorgeous ladies felt about their session and see some of their amazing images.    Let me know if you love it as much as I do!!!
Introducing Ms. B
I'll be 40 in less than two weeks! (Omg!) I'm a letter carrier.
I had been a member of your group for quite some time, I was added by a friend of mine who knew I was going through a lot of terrible things . I admired your work, the beautiful women of all shapes, sizes, and realized I was sinking into a deep hole of never thinking I was good enough anymore. I saw you posted a sale and just went for it (while internally freaking out).
Oh, wow… yes! I was afraid I was getting too old, my skin wasn't the same after kids and drastic weight loss, that I wasn't "sexy".. I never really loved my picture being taken because I can find so many imperfections in myself. We are indeed our own worst critics.
Not at all! I thought it was going to be maybe a little uncomfortable, or more structured… but it was just a lot of fear and that I wasn't good enough.
Amy!!! The comfort level was overwhelming in the best way ever. It was so serene, romantic in her studio and she was just real, honest, SUPPORTIVE. Plus her lovely ladies that dolled me up made me feel like I was just hanging with friends.
That I was looking at someone else at first, just complete shock. I wanted to laugh, cry, say WTF repeatedly. It took a while for it to really sink in that I am this beautiful, sexy chick I'm staring at every day.
Absolutely! It's amazing what some makeup, pretty hair and eyelashes will do. It really showed me that I am perfect just the way I am, she really brought out a side of myself I never viewed before.
GO FOR IT! We are all beautiful creatures, blessed with these shells that we carry around day in and day out. We aren't just moms, wives, single women, etc. It's ok to step out of your comfort zone. It's ok to open your eyes to your beauty, it doesn't make you a bad person, it's make you YOU. Appreciate what you have and The Intimate Story will help you rock it! You'll never regret it. I came from an extremely abusive relationship. I believed every nasty thing that was told to me, about myself. Don't believe it. Believe in yourself and give yourself a tremendous gift of confidence by doing a boudoir. Take your power back.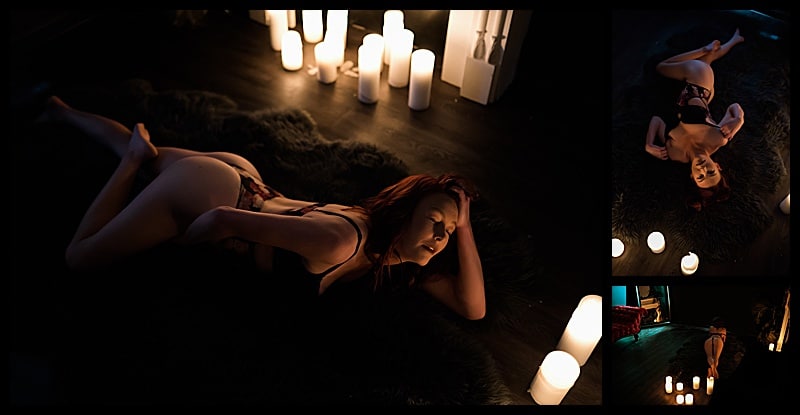 A million ways but most importantly, I do have an ass! I carry myself around a little better, what I thought was weaknesses are strengths that make me one whole badass chick.
I loved working with The Intimate Story. Nothing in the world needs to be changed!
I loved working with you too!!!!
Ready to start Your Experience???