10 Important Questions to Ask Your Boudoir Photographer BEFORE You Book
So, you're considering a boudoir session? Congrats, girl! Boudoir is one of the most healing and empowering experiences you can do. It will truly change the way you see yourself… If you do it correctly.  
As a very successful boudoir photographer here in the Midwest, I have had many women come into my studio with horror stories of previous boudoir experiences. I've heard things from: inexperienced photographers who don't know how to pose clients in a flattering way, to extremely over-edited images. From photographers downright bailing on their clients after they've paid, to having random people in the room during their session. I've heard stories of photographers degrading women for not knowing how to pose, and of some that say it's THE CLIENT'S fault when their images didn't turn out as beautifully as they wanted them to. The point is, like anything else of value- whether it be a car, a tattoo, or a nice meal at a restaurant- you often get what you pay for.  
I have been brought to tears while listening to some of my client's past boudoir disasters. It downright breaks my heart. So, I want to take a moment to help anyone out there considering a boudoir session by compiling a list of questions you should ask to any/all boudoir photographers you are considering. 
#1: Where will my session take place? 
A lot of photographers work out of hotel rooms, some (like me!) shoot solely in their studio, others may even come to you. You want to find a photographer that shoots in a location that is comfortable for you. Because, let's face it, if you feel uncomfortable during the session, it will definitely show in your images 
A good follow up question to this is asking if you can tour the location beforehand. This will help ease your anxiety and allows you to see if the space fits your needs. 
#2: About how long will my boudoir session last? 
This is a good question to ask because it lets you know how much time to block off in your day. I recently had a lovely client come in who said that in her last experience with another photographer, she thought the whole ordeal would take about 2 hours and it ended up taking over 4!! As a result, she was late getting back to work and got in trouble with her boss.  
You'll already be a little stressed going into your session (who wouldn't be?), don't add to that by not taking enough time off work. 
#3: Do you include hair and make-up in your sessions or do I need to have it done beforehand? 
The last thing you want is to show up to your session expecting there to be hair and make-up and being told they don't offer it and you needed to have done it on your own time.  
Professional hair and make-up not only adds to the experience of a boudoir session, but it also helps your images look even more kickass. Most established and experienced photographers include this in the session fee, but some don't. Make sure you know which one you're dealing with before you book. 
#4: What do I need to bring with me on the day of my session? 
At The Intimate Story, you don't need to bring a single thing except yourself. I have a fully stocked lingerie closet, shoes in every possible size, props galore, and plenty of water, wine, and snacks to go around. But not all studios are like that. Be sure to ask what all your boudoir photographer needs you to bring, so you don't end up without items you wish you had.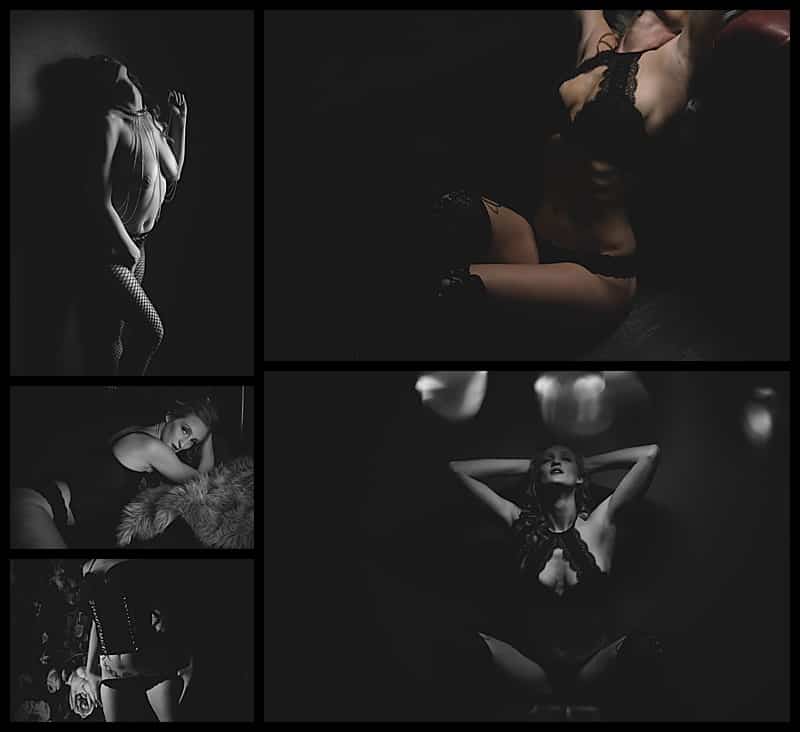 #5: What is your experience (and how long have you been) shooting boudoir? 
This is, arguably, the most important question on this list. I'm not going to lie, boudoir is TOUGH to shoot. It's completely unlike any other genre of photography. So, just because someone is good at shooting seniors, weddings, or families DOES NOT, by any stretch of the imagination, mean that they are good at shooting boudoir. 
Being a talented and knowledgeable boudoir photographer takes a lot of time and effort. It takes days, weeks, months, even years, worth of experience to be able to pose women (with minimal clothes) in flattering ways.  
Like I said before, boudoir can change the way you see yourself, good or bad. Don't let it be the latter and choose a photographer with plenty of experience shooting boudoir specifically. 
#6: What happens to my images after we are done? Do you post them online? Use them in your marketing? 
It goes without saying your boudoir images are very personal. The last thing anyone wants is to see one of their photos pop up somewhere online without them expecting it. Make sure your photographer won't do anything with your images without your consent.  
Some of studios (like mine) have you fill out and sign a waiver stating which images, if any, they can use for marketing purposes. No photographer who cares about the safety and privacy of their clients will force you into a decision or use images without your consent. 
#7: Why have women chosen you as their photographer over others? 
This is a good question because it tells you what's special about that particular photographer. It will tell you what he or she values and why you can trust them with such an intimate experience.  
#8: What's your image turn-around time? 
After a session, the last thing you want is to be waiting for your images with no end in sight. Make sure you ask how long it will take your prospective photographer to get your images back to you, and make sure it's a time frame you can live with! 
#9: How many outfit changes are included in the session? 
The answer to this question will give you an idea of how much variety your photos will have. If it's a relatively short session with little to no outfit changes, don't expect much variation in your images.  
#10: Are you a member of any associations dedicated solely to boudoir photography? 
If the answer to this question is no, that doesn't necessarily mean the photographer doesn't know what they're doing. But, if they say yes, and provide you a list of the organizations they're a part of, you can rest assured knowing you're in good and capable hands. 
You might not know this, but there are plenty of reputable boudoir photography associations, where hundreds of experienced photographers come together to learn from, advise, bounce ideas, and collaborate with one another. If a boudoir photographer is truly passionate about what they do, it is likely they will be a member of one. If they're not, it could be a potential red flag. In this case, you should definitely ask why they haven't taken the time to acquaint themselves with one.  
It's true, boudoir can be a wonderful experience of self-love, or it can completely destroy your self-esteem. It all falls on choosing the RIGHT photographer. 
Selecting the best photographer for you is so much more than looking at that photographer's style (although that should definitely factor into your decision), it's also about finding one that respects you, is knowledgeable and experienced in their field, and who's sole purpose is to help you fall in love with yourself. 
Above all, remember that your time, overall satisfaction, and safety, are worth a hell of a lot more than saving a few bucks. You get what you pay for with photography, but especially boudoir photography. Trust me, it's almost never a good idea to book with the cheapest photographer. But if you do, make sure you do your research and ask a shit ton of questions! The last thing you want is the heart ache of a bad boudoir session. 
Good luck in your search, I truly hope you find your perfect boudoir photographer! Every woman deserves to feel sexy and in love with herself (:  
Until next time, 
XOXO 
–Amy 
Ready to start Your Experience???