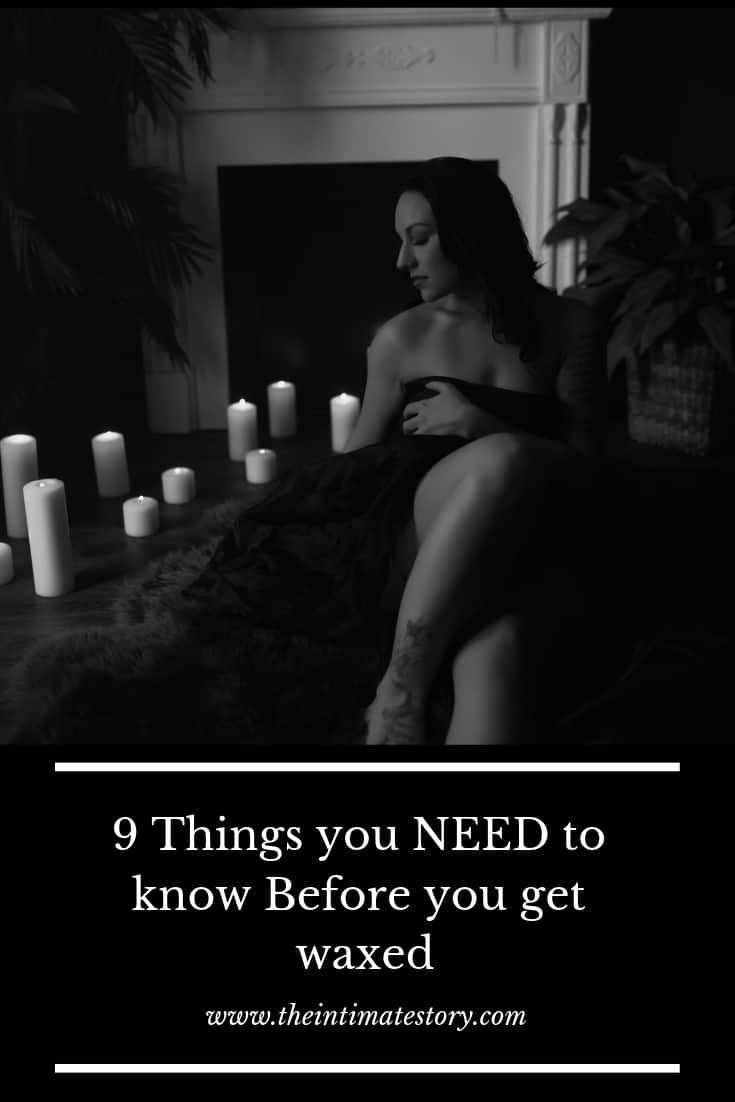 9 things you have to know
Posted on
February 12, 2019
Getting Waxed? 9 Things You Need to Know Before You Go!
I didn't get my first Brazillian wax until a few years ago when the hubs and I took a vacation to the island of Curaçao. If I'm being honest, it scared me. I have a very little tolerance for pain, and had no idea what to expect. But let me tell you, I'm so glad I did it and have been getting them every so often ever since!
As a boudoir photographer, I get A LOT of questions about waxing. So, I'm going to talk a little bit about it today and give you some tips I wish I knew before I went for my first time.
Pop some pain meds before you go
It doesn't matter if you have a higher pain tolerance than me (pretty much everyone does), you are still going to want to take your over-the-counter pain med of choice beforehand. Mine is Ibuprofen, but to each their own. Take those babies about 30-40 minutes before your appointment, and, trust me, you won't regret it.
Now, if pain meds aren't your thing, plenty of waxing salons offer wine to ease the pain and calm those nerves. Just make sure yours does before you go!
Make sure you have enough hair down there…
This one seems obvious, but there's actually a specific length your hair should be before you go. I think we all know that it's a bad idea for your hair to be too short, as it would be hard for the wax to have anything to grab on to. But, did you know it's not good you have your hair be too long either?
My girlfriend mistakenly thought having longer hair would mean an easier experience and, therefore, lesser pain. She was wrong. Very wrong. Having your hair be too long can actually cause it to be more painful!! I was told that a good rule of thumb is to have it be about ¼ of an inch. But it's never a bad idea to check with your waxer for their length preference.
Any hairs left behind will be tweezed!
Some salons may ask you if you want these stragglers tweezed or left there. But, be prepared for the fact that they may not- I sure as hell wasn't.
Incorporate loose sweatpants into your wax day outfit
There is no getting around it, you will be sore afterward- especially if you're a virgin-waxer, like I was. So, wear some loose and comfy pants. I know they're not as cute, but trust me, you DO NOT want to get to the end of your session only to realize you have to squeeze your throbbing lower half into a pair of fucking jeans. I've been there. And it's not fun, or pretty.
If you want to take it one step further, go commando under those baggy sweats. You'll be much more comfortable and your sensitive pores will thank you for not subjecting them to any additional sweat or oil. But, if you're like me and must wear panties, the baggier the better, believe me.
Make sure to shower before you go
Your waxer will be getting all up in your personal business- that's already anxiety inducing enough. Not to mention spending the entire time wondering if your hoo-ha stinks. So, save yourself some worry, and make sure you're all fresh and clean beforehand.
Skip the regular lotion, but stock up on that hydrocortisone cream
You definitely want to moisturize before you go, just do it the night before. Then after it's all said and done, use hydrocortisone cream to help soothe and calm the inflammation. Regular lotion will only clog your pores, making them more irritated.
Get the wax done a few days BEFORE you have a boudoir session, have to wear a bikini, etc.
I'm sorry to say, but things will look a little… um… rough down there for the first few days. It will look swollen. Your skin will be red. And there will be bumps. A lot of bumps. Know that this is completely normal and the best way for it to heal is to follow the aftercare instructions to a T.
Yes, you need to give a tip
It's always a good rule of thumb to tip anyone who does you a service. This is especially true for the lady waxing you down there. In fact, it's probably best if you tip her a little more than you typically would. I, for instance, did 23% instead of 20. Because, let's be honest, given her line of work, she definitely deserves it.
And yeah, it will be painful (but maybe not as bad as you think)
The amount of pain varies from person to person, but one thing is for sure, it does hurt. Especially the first time. Luckily, it does get more bearable after you've popped that bikini wax cherry.
So, there you have it ladies! Hopefully this list helps you prepare for your waxing session. Make sure to ask your waxer if you have any other questions and good luck!!  I have recommendations too if you don't know who to go to…just hit me up
XOXO
-Amy
Ready to start Your Experience???