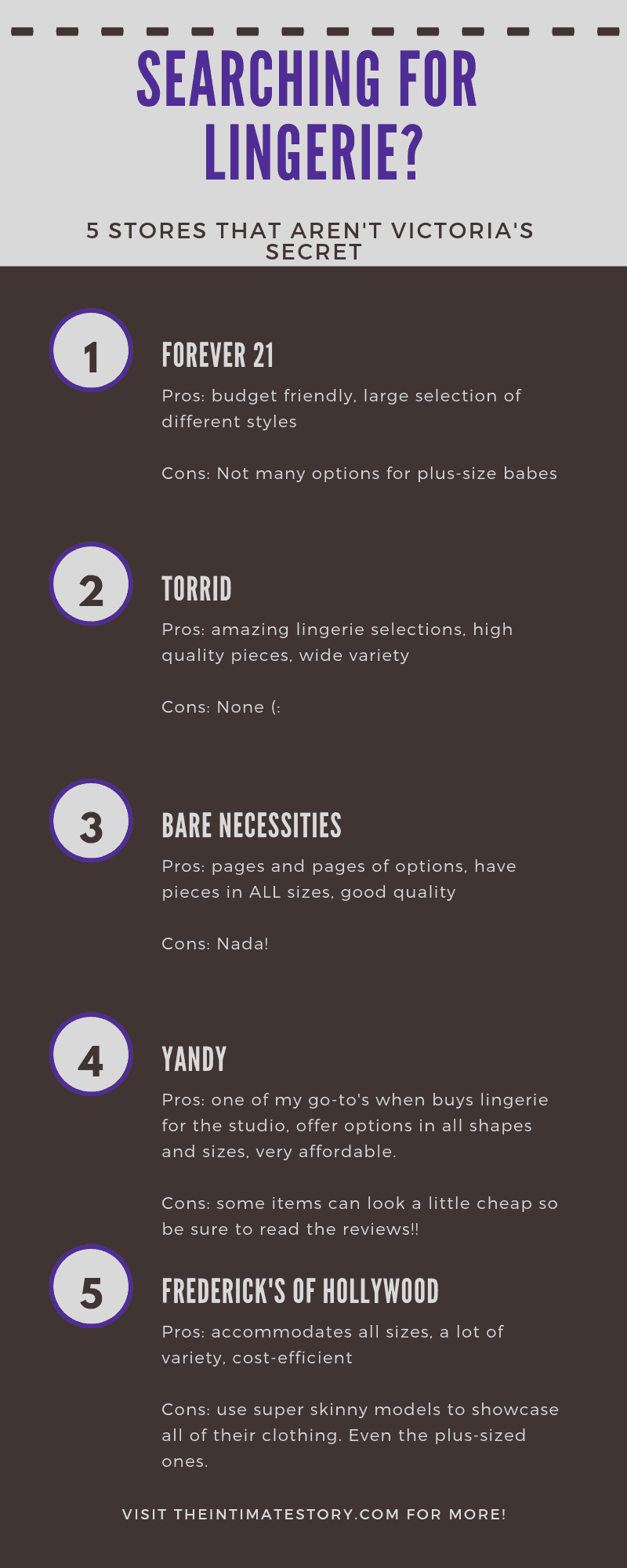 Best Lingerie shops…that aren't Victoria Secret
Posted on
January 26, 2019
Let's be real: shopping for lingerie is HARD! I remember almost being brought to tears in the Victoria's Secret dressing room when nothing I tried on seemed to fit. It was miserable, self-esteem crushing, and slightly embarrassing. And all I could think about were the women that had been into my studio, wondering: "did they feel like this too?". 
So, I vowed, right then and there, to make the process of finding flattering lingerie as easy as humanly possible for every client. And thus, my studio closet was born.  
I went on shopping spree after shopping spree to ensure I had enough clothes to fit any body type that walked into my studio. In fact, I've taken this so seriously that I have not 1, but 2 whole closets now. One for sizes extra-small to large and one for plus-sized. So, if you read this list and still can't find something you like (or simply don't want the hassle/extra expense) rest assured that I have plenty of options.  
But for those of you who want to buy your own outfits to take home and enjoy later, I have compiled a list of my favorite stores to buy lingerie from. So, without further ado… 
#1. Forever 21 
Many people don't know, but Forever 21 has a killer lingerie section! In fact, a lot of my go-to's at the studio are from here. They have a wide variety of pieces and styles, all for a very low price. The only downside here is that they don't offer much plus-sized options for my curvier babes. 
#2. Torrid 
I. Love. Torrid. Period. All of their items are so freaking cute, not to mentions the prices are affordable. I also love the range of options Torrid has. You can find anything from sexy bodysuits, to sheer robes, to sweet bra and panty sets. If you're a woman with real sexy ass curves looking for a high-quality outfit, look no further than Torrid, girl.
#3. Bare Necessities 
If a wide selection is what you're after, Bare Necessities is the store for you. Not only do they have pages upon pages of lingerie options but they're all listed at affordable prices! Another thing I love is that they couple this large selection with a broad range of sizes as well. So, no matter who you are, you will be able to find something good on this site. 
#4. Yandy 
I can't talk about stores with a wide variety without mentioning Yandy. This is another store where many of my go-to's at the studio are from. They are also super budget-friendly and offer sizes for all shapes and sizes! My only word of caution would be: be sure to read the reviews! Some of their items end up looking a little cheap, but definitely not all. Not even most. Just read the reviews and you're bound to purchase something you love. 
#5. Frederick's of Hollywood 
I might have saved the best for last on this one (: Not only does Fredericks accommodate all sizes, but they have SUCH variety. And all for reasonable prices. A client told me about this online store a few months back and I've been hooked ever since. I'm sure you will be too. My only complaint here is that they use rail thin models for all of their clothes. Even the plus sized ones.  
Hope this list helps you find the best lingerie for your session! I'm sure you'll kill it! 
XOXO 
-Amy