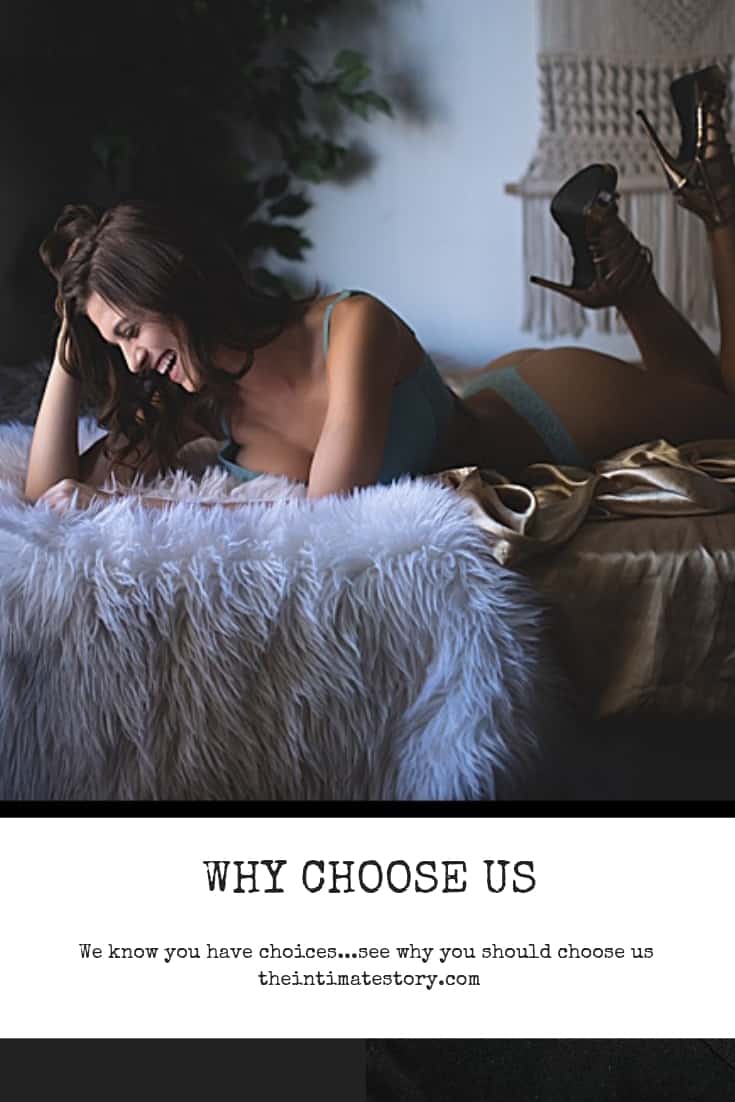 Why Choose Us | Ft Wayne boudoir photographer
Posted on
January 22, 2019
Why Choose Us?
The Intimate Story
Indiana Boudoir Photographer

We know  you have lots of choices when it comes to photographers but we wanted to give you some things that set us a bit apart.  Boudoir sessions are life changing but are also vulnerable so it is mandatory you find a photographer that you can trust.  Here are some things that set us apart!!!
Luxury Boudoir Experience
The moment you step into our studio, you enter a judgement-free oasis full of support and empowerment. Say goodbye to the outside world and fall into a safe place where you are free to be vulnerable, express your sexuality, and feel beautiful. Relax and unwind as you're pampered by our female team of hair and makeup artists. After a ton of laughs, great conversation, and maybe a glass of wine (or two 😉), we'll begin shooting your images.  We have multiple rooms and sets to take advantage of to give you a ton of variation in your photos
Specialization
I have been in the business of photographing and empowering women for over 5 years. In that time, I have ONLY shot boudoir and have photographed hundreds of women of all shapes and sizes, of all backgrounds and of all ages. We have worked with new brides who are still in college to great-grandmothers, with women size 00 to size 26. So, no matter who you are, where you're from, or what dress size you wear, I promise I can make you look and feel beautiful.
Since boudoir is all I shoot, I have the ability to completely focus my energy into developing my work through education and constant practice. Not to mention, I fucking love what I do! I have an obsession for all things boudoir and seriously think I have the best job in the world. Shooting boudoir and empowering women is my passion and I can't wait to share it with you!
Exclusivity
I am the ONLY photography studio in Fort Wayne that shoots boudoir exclusively. My beautiful studio is decorated with unique elements from all around the world to provide absolutely stunning bedroom and office sets. My one of a kind studio is my home away from home, my happy place, so we never share or rent it out. This ensures that your images stay safe and unique to you.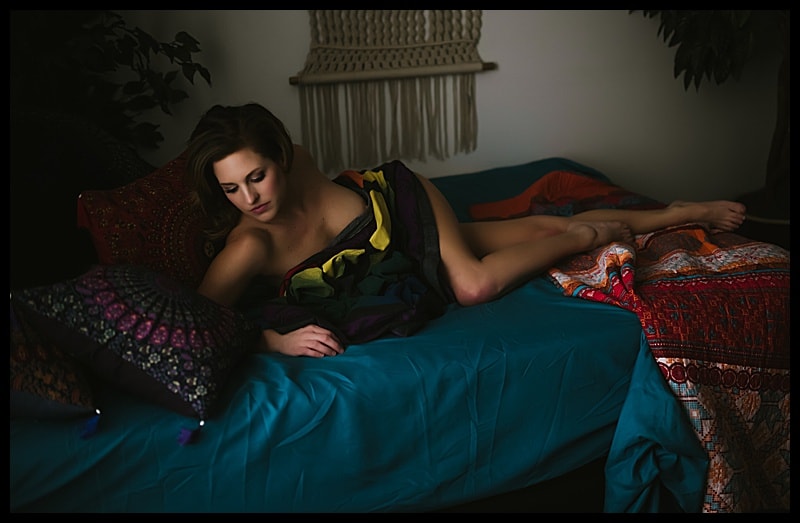 Limited Appointments
Every week, I only take on a maximum of 4  sessions. This means I can dedicate and focus all of my attention into providing you with the empowering and unique boudoir experience you deserve!  I hold your hand every step of the way….I want to make sure that this is an amazing experience for you from start to finish.
Female's Only
Every employee, whether they work in or out of the studio, is female. The stylists that come in each session are also both women and are highly skilled in their craft. You can rest easy knowing that we will be joined by two ladies who will become two new girlfriends by the time you finish your hair and makeup!
Image Protection
Any photo you see of mine is of a REAL woman, just like you and me. She is a daughter, a coworker. She is a mother or a best friend. Many of my clients hold very sensitive jobs and prefer their images to be kept private. Thats totally fine.   No images are ever shared without expressed written permission. My clients' privacy is the most important thing to me, so be assured that your images will NEVER be shared without your permission.  My portfolio is diverse and I do love to share images if you wish, but there is absolutely no pressure to do so.

Step-by-Step Posing
Don't worry if you don't know how to look sexy in pictures before coming in (you're not alone), I promise to instruct you into every single pose that you do. More than likely, I will even end up modelling a few for you 😉. I know it takes a bit of blind trust, but I am very skilled in knowing how to pose you so your favorite assets are the focus and looking fire, while attention is drawn away from your least favorite ones. For those of you who don't know, I was a plus sized gal for a significant portion of my life and I know the horror of seeing yourself in an unflattering pose (I can't tell you the number of times I have rushed to the computer to untag a less-than-favorable pic!) so I promise I will never put you in a position that doesn't do your body justice and flatter your gorgeous shape.
Retouching
I do retouch and edit all of my photos, however the last thing I ever want to do is take away the uniqueness that makes you, you! We all have undesirable bruises, acne, or cellulite. My philosophy is to remove what isn't a part of your life story. Nobody, other than you, notices your bruises or that pimple that seems to pop up the night before your session. These little things do not define you, so why should they be in your images? However, I do not remove scars, stretch marks  and tattoos (unless you specifically ask me to) and I will not change your body's shape or size. All of those things are a part of you, they tell a story of how you got to where you are today, and I want your images to celebrate the badass and unique human you are!
Unique and Luxurious Products
I would never sell something that I didn't personally love. I have spent a lot of time and effort carefully selecting every single product that we offer and I love them all so much (don't even get me started on the Deluxe Album…)! Your images will come gorgeously packaged and ready for display.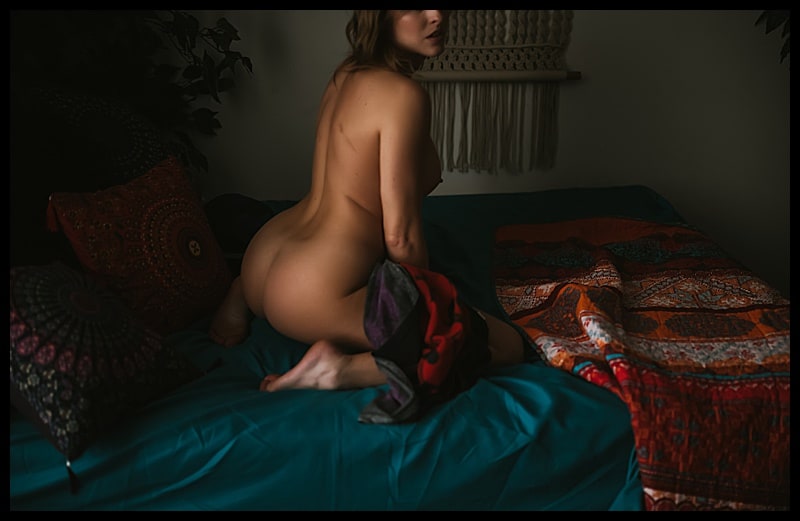 Professional Accomplishments
Know that when you book a session with The Intimate Story, you are in the hands of an extremely knowledgeable and professional photographer. I have my work published both in print and online. I am very happy to say that I am a member of an elite photography group, The international association of boudoir photographers.   My work has also been featured numerous times in the Do More Photographers blog and Instagram
I have mentored several local photographers and have offered numerous classes on various shooting techniques. I have travelled all around the country developing my skills by attending numerous classes, seminars, and workshops, hosted by some of the best photographers in the world. I am considered a boudoir expert among my peers, which is pretty damn awesome! I am always striving to improve my craft
At the end of the day, a boudoir session is a very private and personal choice.  You need to make sure you go with someone you trust to create the very best experience for you.    I would love to meet and chat with you!!!!
xoxoxo
Amy
Ready to start Your Experience???